Question:
How to use the Glossary feature in PromoMats?
---
Answer:
Users must have View Content permission on the document to search the glossary and copy Glossary Definitions.
The glossary opens to the left of the document by clicking the Glossary (

) button, or by pressing CTRL+G on Windows™ or CMD+G on Mac.



Users can perform a search by manually entering and editing text in the Search Glossary field, or by holding down the G key and selecting text in View or Annotate mode.
Apart from the approved glossary definitions, Vault also displays search results from an external search engine if one has been configured. By clicking the external search link, users can view the search results in a pop-up window.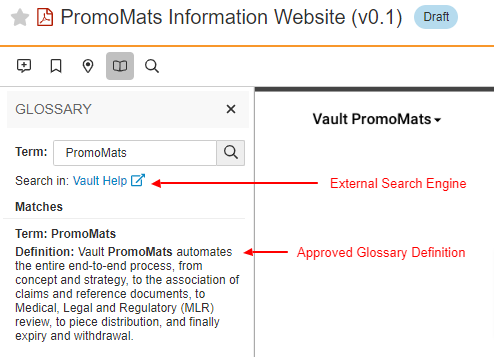 Clicking on the Copy Definition (

) button allows users to copy a Glossary Definition.
To close the glossary, click the Glossary button, or press CTRL+G on Windows™ or CMD+G on Mac.
The glossary is not accessible in the Notes and Thumbnail views, on video documents, and on token-based or public viewers.
---
Related Documentation:
Vault Help Documentation: Searching the Glossary   
Knowledge Base:
---