Question:
How do you add Task comments in Vault PromoMats?
---
Answer:
Task comments can be placed when completing a task. Within the Complete window, there is a clickable link to Add Comments.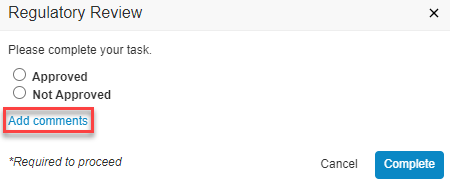 Comments added in this way (called Task Comments) have a character limit of 500 characters. They can be accessed only from the Timeline, extending the workflow section in which they are placed.
---
Related Documentation:
Vault Help: Accepting & Completing Document Workflow Tasks
---
Send us your feedback: We're always looking for feedback to help improve our Knowledge Base! Please let us know if this article was helpful or provide feedback on how we can improve your experience here.