Question:
How to Answer to an Open Query in Vault CDMS?
---
Answer:
This action is taken by the data entry user (CRC). Open queries are visualized on the Site Taskbar: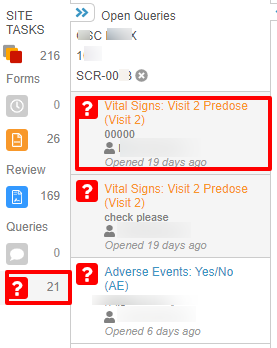 Follow the instructions below to answer an open query:
Navigate to the Event, Form, or Item on which there is an open query using the SIte Taskbar or on the Data entry tab by clicking on the query directly. 
Click under the open query Reply 

(for manual queries)

or

Comment

(for system queries).





If the query was system-generated, Vault closes the query after the value was updated and that value passes the edit check.

If the query was manually created, the CRA or Data Manager will close the query after reviewing the reply and changes.
Enter a comment.
Click Save.


Perform actions specified in the query.
This is a general article, configuration may vary. For any questions please contact Veeva support at cdms_support@veeva.com
---
Related Documentation:
Vault Help Documentation: Answering Queries
---
Thank you