Overview:
User is unable to edit, share, or delete a custom view in Vault.
---
Root Cause:
Only the owner of a custom view is able to access the following functions: edit, share, and delete.
---
Solution:
The user needs to be a Vault Owner and the View is shared as mandatory. To share a custom view as mandatory, the option Recipients cannot remove this view from the tab's sidebar is enabled.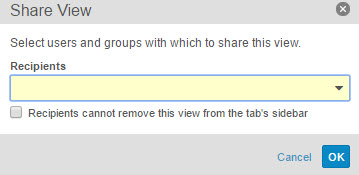 The Save View As action creates a new view which the owner can control. To do this:
Navigate to the Library.
Select the custom view to be saved.
From the heading area dropdown, click Save View As.
Name the custom view.
Click Save.
---
Related Documentation:
Vault documentation: Using Custom Views
---
Send us your feedback: We're always looking for advice to help improve our Knowledge Base! Please let us know if this article was helpful or provide feedback on how we can improve your experience here.
Thank you