Question:
How to identify which language package has been loaded in the org?
---
Answer:
Search for the Common-None Veeva Message from the Search section in the left sidebar of the Home page online.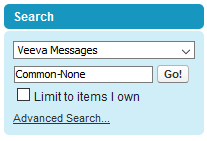 If the translated message for the language does not exist in the org, it is an indication that this language package is not installed for this org.
To have a new Language Package installed, open a ticket with Veeva Support.
---
Related Documentation:
N/A
---
Send us your feedback: We are always looking for feedback to help improve our Knowledge Base! Please let us know if this article is helpful or provide feedback on how we can improve your experience by clicking here.
Thank you