Question:
How to enable Data privacy opt-out in Veeva Network?
---
Answer:
First, the data_privacy_opt_out__c custom field has to be enabled by a System Admin:
Log into Veeva Network as a System Admin.
Click on Admin button next to your username.
Open the Data Model tab.
Search for the data_privacy_opt_out__c custom field.
Be sure the field is enabled by selecting the Enabled? checkbox.
Select the countries and objects which use the Data privacy opt-out feature as seen in the screenshot below: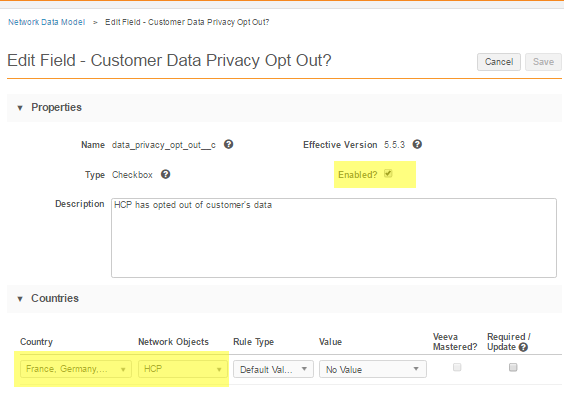 On the top right corner, click Save.
Log out and log back into Veeva Network as a System Admin. The System Admin needs to add permission to view Opted out records to the applicable Data visibility profile(s). Follow these steps to do this:
After logging back into Veeva Network, click on the Admin button again next to the user profile.
Click on the Users tab.
Select the Data Visibility Profile tab.
Choose the country where Opt Out field should be visible.
Click on Edit at the top right corner of the page.
In the Permissions section, set HCP Opt Out Visibility to True as shown in the screenshot below: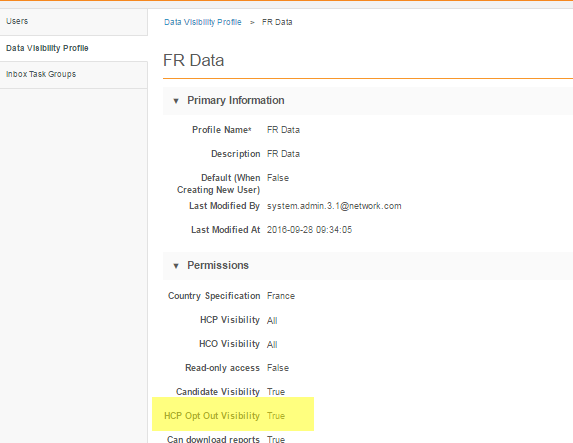 Click on Save at the top right corner of the page.
---
Related Documentation:
Network Help Documentation: Data privacy opt-out
---
Send us your feedback: We're always looking for advice to help improve our Knowledge Base! Please let us know if this article was helpful or provide feedback on how we can improve your experience here.
Thank you