Question:
How to annotate a video in Vault PromoMats and Vault Medical?
---
Answer:
The Annotate tool and document-level comments are available for videos.
Use document-level comments to provide general feedback on the video:



Note: If a comment is entered during video playback, Vault automatically inserts a timestamp in the comment field:




When the video is paused or not playing, a timestamp can be entered manually by using the format @MM:SS (@00:32) or @HH:MM:SS (@01:02:32)
Annotate permission is needed in order to:
Use Comment Annotation. The user can place it at any second by pausing the video.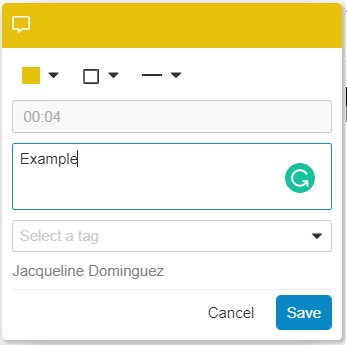 Annotate and Edit Relationships permission is needed in order to create link annotations in videos:
Click Annotate.




Select Add Link.




Select part of the video where the reference needs to be linked to.
The Select anchors window appears. Find the link's target reference.




Click Select or create a new anchor in this document.




Select part of the reference and click Done.
Click Close on the Select Anchors window.

The reference linked to the video displays the timestamp

where the link is placed.


---
Related Documentation:
Vault Help Documentation: Annotating Videos 
---