Question:
How to cancel an active workflow in Vault PromoMats and Medical? 
---
Answer:
An active workflow can be cancelled by an active Workflow Owner (the user who started that workflow) or by a user who has a Security Profile that grants the Workflow Administration: Cancel permission.
There are a number of reasons why the workflow should be cancelled, for example:
The workflow is started by an individual who has left the company. In order to progress the document, the workflow must be stopped and restarted by a new owner.
The workflow is assigned to the wrong reviewer(s) and the particular Vault does not allow an individual to reassign the tasks. 
The workflow owner realizes that the wrong workflow is started. 
There are two ways to cancel the workflow:
The workflow can be cancelled from the Show Active Workflow page: 




The workflow can be cancelled from the Timeline view:


The user receives the following warning: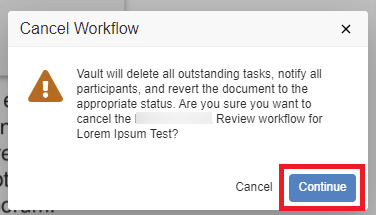 Select Continue to cancel the workflow. 
---
Related Documentation:
Vault Help Documentation: Using Document Workflows
Youtube Channel: How To Cancel An Active Workflow in PromoMats
---