Question:
Can a reviewer be added to an active workflow if a task is already completed in PromoMats?
---
Answer:
Only an active Workflow Owner (a user who starts the workflow) can add new participants. However, if the required task is already completed, then the new reviewer cannot be added (unless the workflow is canceled and restarted).
Example:
Another Regulatory Reviewer needs to be added but the Regulatory Review task is already completed:





If the task is not completed, then there are two ways to add a new reviewer:
From the Show Active Workflow page, select Add Participants: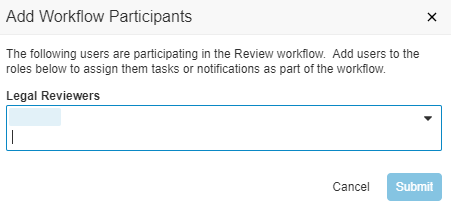 From the Timeline View, select Add Participants:

---
Related Documentation:
Vault Help Documentation: How to Add Workflow Participants
---
Send us your feedback: We are always looking for feedback to help improve our Knowledge Base! Please let us know if this article is helpful or provide feedback on how we can improve your experience by clicking here.