Question:
How to upload a viewable rendition to a document in PromoMats?
---
Answer:
To perform this action Manage Viewable Rendition permission is needed.
On the Document Files tab, find the Renditions section.




If Vault did not create a Viewable Rendition after the source file was uploaded, jumpt to step 3. If there is already a Viewable Rendition created by Vault, hover over the file to find the Action Menu and delete the Viewable Rendition that needs to be replaced. 




Click on the plus symbol to add a new file as a Viewable Rendition:




Select Viewable Rendition from the dropdown, and upload the file by clicking on Choose a File. Then, click Upload:


Note: Hover over the file to view Upload Timestamp.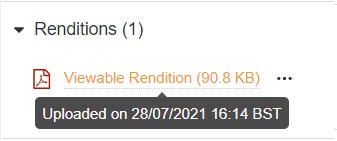 ---
Related Documentation:
Vault Help Documentation: About Auto-Generated Viewable Renditions
---