Question:
Can annotations be viewed when a Workflow Task is not completed in Vault PromoMats?
---
Answer:
Yes. Any annotations that are added to a document can be viewed even if the Workflow Task is not completed.
To view annotations, click on the Annotate button in the upper left-hand section of the document:



Two different views are available when viewing annotations- to see the different views hover over the icons.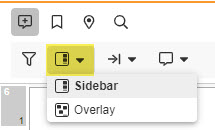 Sidebar - All annotations appear on the right side of the document.
Overlay - Annotations display on top of the artwork next to the related annotation. 
Note: While the Annotate permission is not needed to view an annotation, it is needed to add or resolve any annotations on the document.
---
Related Documentation:
Vault Help:  Accepting & Completing Document Workflow Tasks
---