Overview:
When moving a Study to the Archived lifecycle state, the user is not able to save this change and receives the error message below: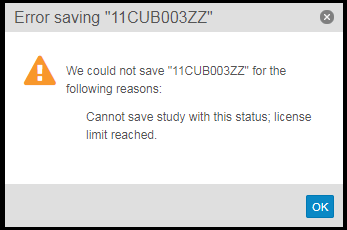 ---
Root Cause:
When a user archives a Study record, it automatically archives the Study Country and Study Site records within it in Vaults where TMF (Trial Master File) objects are not managed with a lifecycle. There is a limit on the number of Study Sites that can be archived in Vault. If archiving the Study causes the Archived Sites limit to be exceeded, then the user is not able to archive the Study record.
This limit can be seen under Admin --> Settings --> General Settings  --> License Information.

---
Solution:
If this Study record needs to be archived, the number of Study Site records within it need to be reduced to prevent the limit from being reached. Or, if the user needs the Archived Sites limit raised, talk to the user's Veeva Account Executive to discuss whether or not the limit can be increased.
---
Related Documentation:
---