Question:
What is the Active Workflows Tab in PromoMats?
---
Answer:
The Active Workflows view can be found under the Tasks Tab.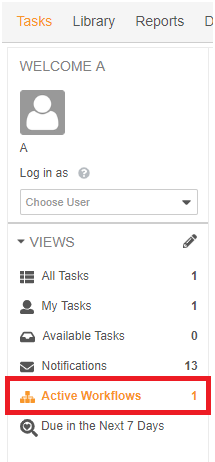 This view shows all workflows the user is a part of, even if the user has already completed the task. Once the workflow has fully completed, it is removed from the Active Workflows count.
---
Related Documentation:
Vault Help Documentation: Using Document Workflows
How to Cancel an Active Workflow in PromoMats?
---
Send us your feedback: We are always looking for feedback to help improve our Knowledge Base! Please let us know if this article is helpful or provide feedback on how we can improve your experience by clicking here.