Question:
How to download a PDF with Annotations from a previous version of a document in PromoMats?
---
Answer:
---
To download a PDF with annotations from a previous version of a document, use the following steps:
Search for the document and click on the document name.


Under Document Information, look for Version History and expand the section.





Select the version of the document in which the PDF is annotated and click on it.




After selecting the right version, be sure it states the version needed next to the title of the document.




Select the drop-down menu from the Download Options on the top-right side of the screen.




Select the option for PDF with Annotations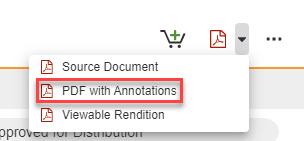 A PDF downloads with all annotations made on the content from that specific version.
---
Related Documentation:
Knowledge Base: What is the PDF with Annotations Option in PromoMats?
---
Send us your feedback: We are always looking for feedback to help improve our Knowledge Base! Please let us know if this article is helpful or provide feedback on how we can improve your experience by clicking here.