Question:
Why are the addresses different between the Classic and Table view of My Accounts in Veeva CRM?
Classic View: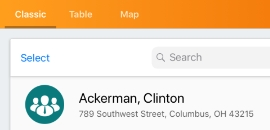 Table View:

---
Answer:
The Classic view displays the My Preferred Address from the end-user's Territory Specific Field (TSF). If a TSF record does not exist for the user, the primary address of the Account is used.
The Table view simulates the online My Accounts view and the results are based on the View_vod__c record.
---
Related Documentation:
CRM Help Documentation: How Does the Address Display in the CRM iRep Account View? 
---