Question:
How to delete a rendition in PromoMats?
---
Answer:
Manage Viewable Rendition permission is needed in order to delete a rendition.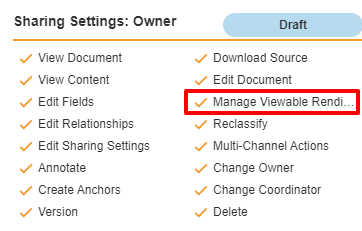 To delete a rendition, follow the steps below:
Click on the Document Files icon.


Navigate to the Renditions section, locate the rendition that needs to be deleted, and click on the Ellipsis menu next to it.


Select Delete Rendition.


Click Continue




The rendition will then be removed from the Renditions section.



---
Related Documentation:
Vault Help Documentation: Working With Renditions
---
Send us your feedback: We are always looking for feedback to help improve our Knowledge Base! Please let us know if this article is helpful or provide feedback on how we can improve your experience by clicking here.