Question:
When using the feature Export All Files from the Actions Menu, the ZIP file downloaded does not show all the files available which the user has permission to view in Vault PromoMats and Vault Medical.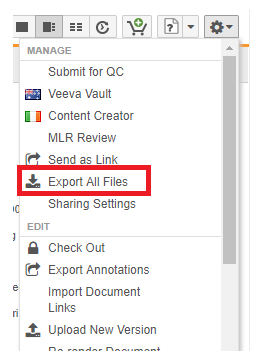 Note: Vault downloads only the documents the user has permission to View. The export summary indicates the documents excluded from the export and the reason.
---
Answer:
The default Windows application (Windows Explorer) to read ZIP files fails and some of the compressed files are not displayed.
The users can download the application WinZip or 7-Zip with internal authorization* and use it to open the ZIP file created by Vault. 
*Note: Some users need internal authorization from the Pharma Company to download external applications.
Once the new application is downloaded, follow the steps below:
From the Vault ZIP file, right-click and select Open with  --> Choose another app as shown below:




From Other Options, select the new Application. Optionally, the user can tick the box Always use this app to open .zip files. Then, click OK.




The ZIP file opens and displays all files downloaded by Vault.


---
Related Documentation:
Knowledge Base Articles:
---