Question:
Why Suggest Links is not available in PromoMats?
---
Answer:
When all criteria are met, the Suggest Links option is available on the document.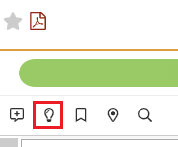 There are several possible reasons Suggest Links is not available:
Suggest Links is not enabled in the Document Type.


The user is missing Annotate and/or Edit Relationships permission. 


There is no matching Claim.


The Claim Match Text is not an exact match. This includes punctuation.  
---
Related Documentation:
Vault Help Documentation: Configuring Auto Claims Linking (PromoMats)
---
Send us your feedback: We're always looking for feedback to help improve our Knowledge Base! Please let us know if this article was helpful or provide feedback on how we can improve your experience here.