Overview:
An error pops up when adding a document to the Portal Widget Contents:
We could not save "Portal Widget Content" for the following reasons:
Type [Document] and [Content Filters] are not compatible.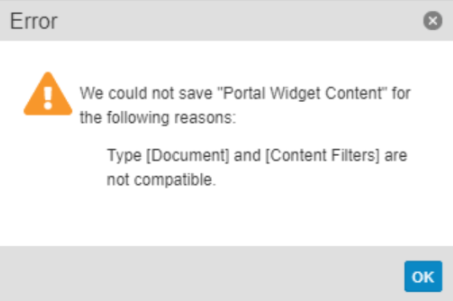 ---
Root Cause:
The Document Type is not configured properly for Binder Thumbnail Options.
---
Solution:
Go to Vault Admin page.
Select Configuration.
Open the Document Types tab.
Double-click on the affected Type.
Search for the Binder Thumbnail Options.
Set it to "Display Binder Thumbnails".
Note: This needs to be set on Document Subtype level, as well.


---
Related Documentation:
Vault Documentation:  Vault Help
Knowledge Base Article:
---