Overview:
An error pops up when adding a document to the Portal Widget Contents:
We could not save "Portal Widget Content" for the following reasons:
Type [Document] and [Content Filters] are not compatible.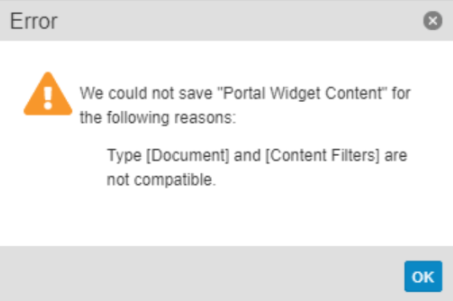 ---
Root Cause:
The Document Type is not configured properly for Binder Thumbnail Options.
---
Solution:
Go to Vault Admin page.
Select Configuration.
Open the Document Types tab.
Double-click on the affected Type.
Search for the Binder Thumbnail Options.
Set it to "Display Binder Thumbnails".
Note: This needs to be set on Document Subtype level, as well.


---
Related Documentation:
Vault Help Documentation:
Knowledge Base Article:
---
Send us your feedback: We are always looking for feedback to help improve our Knowledge Base! Please let us know if this article is helpful or provide feedback on how we can improve your experience by clicking here.