Overview:
When a user attempts to create a new Transmissions record on a closed case, the user receives an error: Closed cases cannot be modified.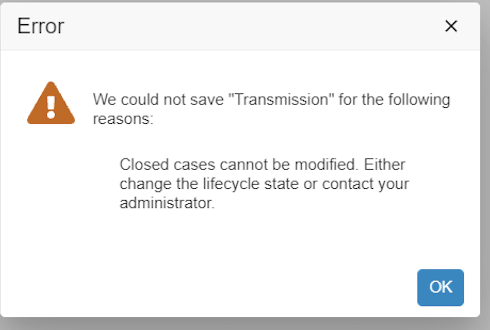 ---
Root Cause:
Once a case enters the Closed state, case fields and all case child records (Case Assessment, Case Product, and so on) are locked from changes. 
As a result, transmissions cannot be created on closed cases. 
---
Solution:
After closing a case, the only way to revise the case is to add a new Follow Up case.

Go to the Cases tab.
Locate the case in which a Follow-Up Case is to be added.
Select the Case name to open it.
On the Case page, expand the action menu, and then select the Create Follow Up Case user action. The action label may appear as

 

Start Revision/Follow-Up

 

or

 

Follow Up (New Version), or a different label depending on the Vault's configuration.
---
Related Documentation:
N/A  
---