Question:
Why custom icons do not display in Vault PromoMats when using BEE Editor?
---
Answer:
When users add custom icons to an email template, these icons do not appear, appear as a blank square, or as a broken image icon:

When the custom icon is added to the email template as a URL, or if the user uses social icons, this issue does not happen as the HTML source for these icons includes URLs stored on a website.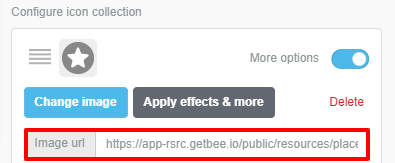 However, any images uploaded to BEE Editor and used as customs icons are not automatically added to the Assets folder that Vault creates when the user saves an email template in BEE Editor.
To resolve this, the user needs to do the following:
Download the Assets folder.

Modify the folder manually to include any relevant icons.

Upload the folder to Vault again.
---
Related Documentation:
Vault Help Documentation: Using the BEE Email Template Editor 
---
Send us your feedback: We're always looking for feedback to help improve our Knowledge Base! Please let us know if this article was helpful or provide feedback on how we can improve your experience here.