---
Question:
Why are Object Records not generating on Monitored Trip Report Template in Vault?
---
Answer:
Open the Monitored Trip Report in either Adobe Livecycle Designer or Adobe AEM Forms Designer to ensure that:
A proper token is entered in the template for the section in question
Repeat Row for Each Data Item checkbox is selected. If it is not checked, have the user check it and generate the Monitored Trip Report again
Enabling this feature allows Object Records to properly generate on the Monitored Trip Report.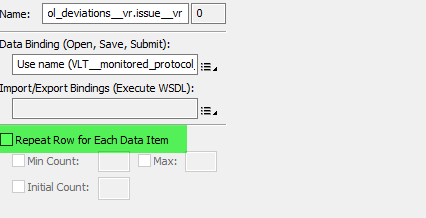 ---
Related Documentation:
Vault Trip Report Template Documentation: Trip Report Administration
---