Question:
What is the Bring Forward Annotations --> Advanced functionality in PromoMats?
---
Answer:
When bringing forward annotations to the newest version, the user can choose the Advanced functionality: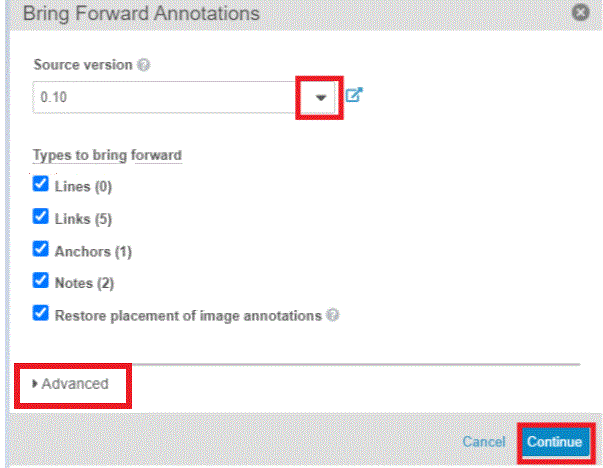 Advanced allows to specify in detail what needs to be brought forward:
Do not bring forward duplicate link annotations - Prevents more than one instance of identical link annotations within the same page from being brought forward


Do not bring forward page-level annotations - Prevents annotations that cannot be automatically placed from being brought forward


Specify added/removed pages - Specify pages added to the new version, and/or pages removed from the selected prior version, if any
Vault accounts for these changes when placing the brought forward annotations:


-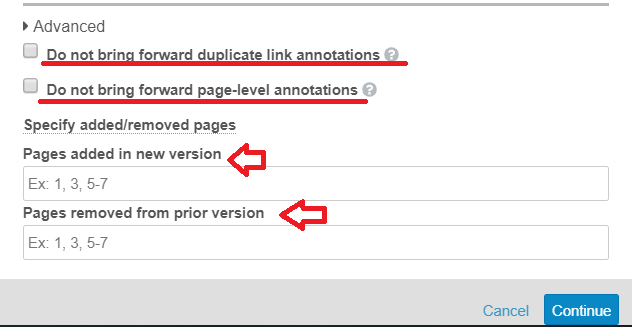 Note: the Advanced option only appears in the case that it is enabled by an Admin user in the Configuration.
---
Related Documentation:
Vault Help Documentation: How to Bring Forward Annotations
Knowledge Article:
---
Send us your feedback: We are always looking for feedback to help improve our Knowledge Base! Please let us know if this article is helpful or provide feedback on how we can improve your experience by clicking here.