Overview:
When completing a task, the user gets an error message:
The document must have the following criteria for the workflow to continue:  The workflow task assignee group Owner must contain users.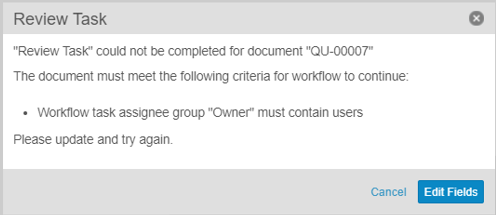 ---
Root Cause:
The Owner of the document changes when the workflow is active. An internal process needs the previous owner to continue. 
---
Solution:
Assign the Owner role to the user who was the Owner when the workflow started.
---
Related Documentation:
Vault Help Documentation: N/A  
---