Overview:
A User creates a Related List Label.

However, the name of the Related List in the page layout is not the same as the defined Related List Label.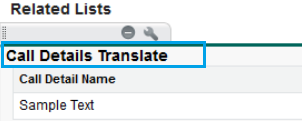 ---
Root Cause:
The display shows differently due to the field having a translated label in the Translated Workbench, hence overriding the Related List Label.
---
Solution:
To check this, follow these steps:
Navigate to: Setup --> Translation Workbench --> Translate.
Select the Language as English. 
Select the Setup Component as Custom Field. 
Select the Object, such as Call Details.
Select the Related List Label.



---
Related Documentation:
N/A
---
Send us your feedback: We are always looking for feedback to help improve our Knowledge Base! Please let us know if this article is helpful or provide feedback on how we can improve your experience by clicking here.