Overview:
This set up is crucial for the CLM or Engage Integration between Veeva CRM and Veeva Vault.
Upon Multichannel Presentation (Binder) Approval in Vault, a CRM Media Type field is required error occurs.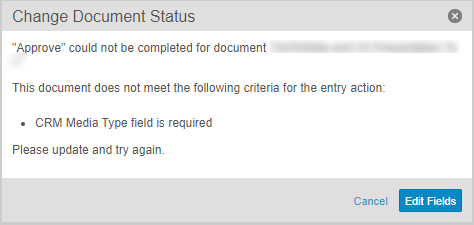 ---
Root Cause:
The issue is caused by the Send to Engage or Send to CLM action being present as an entry or user action in the Binder Lifecycle - Multichannel Presentation. The issue occurs with any respective Document Statuses, in which these entry or user actions are added.
---
Solution:
Be sure to remove any entry or user actions from the Binder Lifecycle of any statuses. Binders are not supposed to be Sent out to CDN (Content Distribution Network) or Engage.
---
Related Documentation:
---