Overview:
No system emails are delivered to the users' email addresses, even when this would be expected. Example: No system emails sent after an email address modification or a password reset.
---
Root Cause:
The Email Deliverability settings applied are not allowing users to receive automatic system emails.
---
Solution:
Email Deliverability settings need to be amended as follows:
Navigate to

 

Setup

 

-->

 Administer 

-->

 

Email Administration

 

-->

 Deliverability

.
See that the Access level setting at the top of the page in the Access to Send Email (All Email Services) section is set to No access.
Change this value to System email only or All email in the picklist.
Click Save.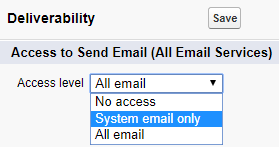 Once the No access setting is changed, users start receiving automatic system emails.
Different setting values control Email Deliverability as follows:
The No access setting prevents all outbound emails to and from users.
The System email only setting allows only automatically generated emails, such as new user and password reset emails.
The All email setting allows all types of outbound email. 
---
Related Documentation:
Salesforce Documentation: Guidelines for Configuring Deliverability Settings for Emails
---