Question:
Why is a Vault User Receiving the Error User Email Address Cannot be Updated During User Creation, Please Try Again?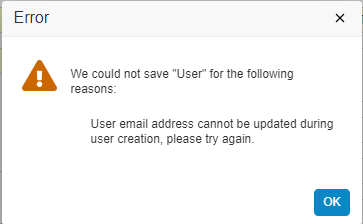 ---
Answer:
When creating a Vault user linked to a Domain user, this error can occur if there is a trailing space in the user's email address. The steps to fix this error are:
Navigate to the Vault users details page for the user.

Edit the user's email to something other than the current email and save.

Set the email address back to the original email address.
---
Related Documentation:
---