Overview:
An error occurs when attempting to Send Email through Suggestions on iPad:  A user does not have permission to update or create records for object 'Sent Email'.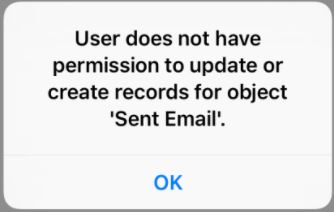 Sending Approved Email from the Account Detail page is successful.
---
Root Cause:
The user does not have Edit permission on the Suggestions object.
---
Solution:
Grant the user Edit permission to the Suggestions object.
---
Related Documentation:
CRM Help documentation: Suggestions Configuration
---