Overview:
1. When standard Time_vod__c picklist values are used Online, the Time Off Territory (TOT) record appears correctly as an All Day event Offline:

2. However, if custom Time_vod__c values are used Online, the TOT record does not appear as an All Day event. It appears under 00:00: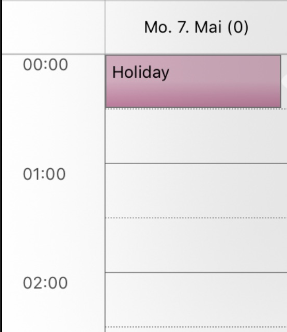 ---
Answer:
Custom Time_vod__c picklist values are not supported Offline and this is the expected behavior. In order to resolve this, please use or revert back to the standard Veeva provided Time_vod__c picklist values and API Names:
AM Off - AM Off
PM Off - PM Off
All Day - All Day
2 Days - 2 Days
3 Days - 3 Days
4 Days - 4 Days
5 Days - 5 Days
Hourly - Hourly
---
Related Documentation:
CRM Documentation: My Schedule Overview
---
Send us your feedback: We're always looking for advice to help improve our Knowledge Base! Please let us know if this article was helpful or provide feedback on how we can improve your experience here.