Overview:
When trying to delete a Product in Vault, an error message appears: You cannot delete the "Product: [Product]" record for the following reasons: Resource and/or one or more of its children are used by one or more [reports].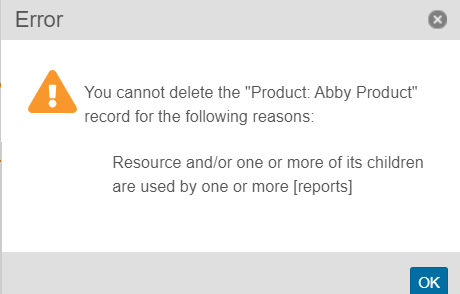 ---
Root Cause:
There are reports referencing the Product record as filters. 
---
Solution:
Filters that include the Product record from reports need to be removed. An admin can follow the steps below to locate these reports.
Navigate to Admin --> Deployment --> Vault Configuration Report.
Only select Report under the Others section.




Click the Generate button.
Download the configuration report either from the Notification on Home Page or from the Notification Email that arrives in the email inbox.
Open the configuration report and navigate to the Report tab.
Copy all the content and paste it to Notepad.
Search the product name in Notepad.
The value after </vrp reportFormat> is the report name.



---
Related Documentation:
Vault Help Documentation: Using Report Filters
---