Overview:
Upon creating a single Opt In / Opt Out record, Content Type field is not populated on the Multichannel Consent record.
---
Root Cause:
Edit FLS is missing on the Content Type field on Multichannel Consent object for the end user.
---
Solution:
Grant Edit FLS to the end user on Content Type field on Multichannel Consent object:
Click on the affected user's Profile.
Go to the Field-Level Security section.
Click on View next to Multichannel Consent.
Click on Edit, check Edit Access next to Content Type.
Click on Save, Clear Veeva Cache.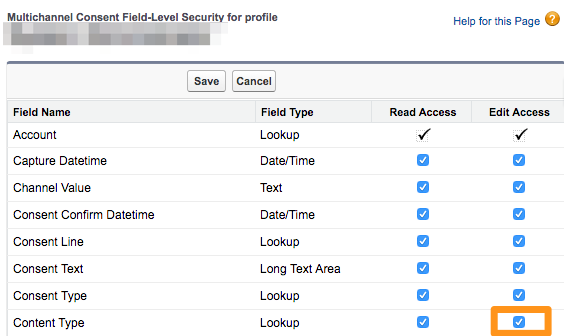 ---
Related Documentation:
CRM Help Documentation: Configuring Consent Capture
---
Send us your feedback: We are always looking for feedback to help improve our Knowledge Base! Please let us know if this article is helpful or provide feedback on how we can improve your experience by clicking here.